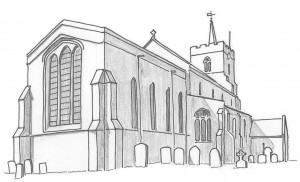 FUNDRAISING FOR
THE CHURCH
BUILDING PROJECTS
Preserving the Church's Heritage for future generations
The 'Friends' of Somersham Parish Church are a group of people who have an interest in this historic building and the churchyard, but who may not necessarily wish to be part of the congregation or worship at the church.
What we do
We raise funds to maintain and improve the Parish Church which is the oldest building in Somersham
We hold concerts and exhibitions and generally try to get the building used for community events
We have already paid for repairs to the Church bells
We have contributed money towards the installation of a toilet in the church.
We do not
Give any money for the running of the Church services
Pay for the heating, lighting or insurance of the building
Pay anything towards the Rector's salary
Give any money to the Diocese of Ely
We invite
y
ou to become a 'Friend of Somersham Parish Church'
In becoming a 'Friend' you will not only be providing financial support for the fabric of the church but you will also show your support for the work that we are doing to make sure that the building and its history are there for future generations.
To become a 'Friend' please collect a membership form from our noticeboard in the Church or apply for one from Alan Draper (Chairman)  or download one from the Downloads page,  and then complete and return it with your membership subscription.
Cheques should be made payable to: 'Friends of Somersham Parish Church'
Annual Membership (individual)            £5.00
Life Member (individual)                    £100.00
Life Membership (couple)                  £150.00
We are a registered charity(Charity No. 1152257)
---