The Parish (Church) Registers
The Church has copies of all of its Births, Marriage & Burial Registers. The Parish Baptism and Marriage Registers start in 1558, and the Burial records begin in 1563. They can be inspected at the Huntingdon Record Office; however, searches can be made on request to our Church Archivist (search fees are shown below).   We charge a small fee for this work: £28 for up to an hour and £28 for each subsequent hour.  The parish records are in a reasonable state so any individual search should not take more than an hour and we will always let you know in advance if a particular search would be likely to take longer.
We also have an index of the gravestones in the Churchyard. A copy of this is available for inspection at the Church but again searches can be made through our Church Archivist.  The index provides records of all of the graves with their location within the Churchyard, including burial dates and inscriptions. Additionally we can supply JPEG images of individual graves.
There are in fact quite a few interesting graves in the churchyard.   Here are just a few: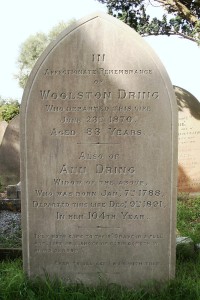 Ann DRING's headstone reads as follows:
Ann DRING widow of the above who was born January. 7th 1786, departed this life December. 9th 1891 in her 104th year.
She was 103 years old at the time of her death and had to her credit 7 children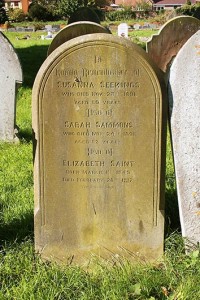 , 29 grandchildren, 60 great grandchildren, not to mention several greatgreat grandchildren.
Two sisters,  Susanna SEEKINGS  and  Sarah SAMMONS,  died on consecutive days in November 1891 and were buried at the same time and in the same grave.   A third person – Elizabeth Saint was also buried in the same grave in 1917.   Was she the third sister?
The inscription on the headstone reads:    In loving remembrance of Susanna SEEKINGS who died Nov. 23rd 1891 aged 80 years. Also of Sarah SAMMONS who died Nov. 24th 1891 aged 82 years. Also of Elizabeth SAINT born March 1st 1849 died February 20th 1917.
Thomas SAVAGE does not have a marked grave in the churchyard although the burial register records his burial.  At the age of 21 years old,  in 1824,  he was hanged for the crime of Arson.  This notorious fire in Somersham occurred on 26th May 1824.  Thomas who was 21 years of age at the time was sentenced to death at the Huntingdon Assizes in August 1824 for setting fire to a barn.   A certain amount of historical interest is attached to this fire, as Savage was the last person to be executed for incendiarism (arson) in the county of Huntingdonshire.   His remains were buried in Somersham churchyard on the 19th December and this is recorded in the church burial register.