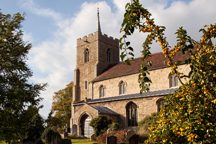 The Parish Church of St. John the Baptist is the largest of the churches in the Benefice. Situated in Church Street, in the heart of the village of Somersham, the church stands on a site which in all probability has been consecrated for Christian worship since the second half of the seventh century. The current building though dates from the period between 1250 and 1300 and is likely to have been built and paid-for by one of the bishops living in the (now disappeared) Bishops Palace which was sited only a few hundred yards from where the church now stands.
The Church itself is a wonderful and peaceful place and is open during daylight hours, normally  closing at 5pm unless there is something special happening.   A service is held every Sunday at 10.30 am and each Wednesday at 9.30 am.  Services are held at other times.  Full details can be seen on our Home page and/or This Week.
Regular Activities at St John's
'LITTLE ACORNS'
This is a baby and toddler group held at St John's Church,
Somersham every Thursday from 9:30 – 11:00am (term time only). Children are invited to sing, play, listen to stories and do crafts together while beginning to learn about Jesus. Please come and join us to find out more.

'MESSY CHURCH'
This is very popular and is a way of attending church for families involving fun.  It is not a craft club, but it helps people encounter Jesus. Its values are about being Christ-centred, for all ages, based on creativity, hospitality and celebration.
SUNDAY SCHOOL
This meets on the first and third Sundays of the month at 10.30 in Church, during the Sunday Service. On the second Sunday children's crafts are available during the service.
OPEN THE BOOK
Open the Book presents the Bible in primary schools in an accessible and enjoyable way in school assemblies. Members of our church and Somersham Baptist Church go into the primary and independent schools in the village and tell stories in a 10-15 minute presentation.
MOTHERS' UNION
A well attended branch of the MU meets each month and supports the Church in many different ways. They support various local charities, meet with ladies from the other Churches and enjoy various outings. Open to men too!
ALPHA
The Alpha Course, now known simply as Alpha, seeks to introduce the basics of the Christian faith through a series of talks and discussions. It is described by its organisers as "an opportunity to explore the meaning of life".
BIBLE STUDY GROUP
A group meets on Wednesday evenings to study different books of the Bible in a relaxed atmosphere. You don't have to be an expert – no-one else is – just want to learn more.
FLOWERS
Our Church is usually beautifully decorated with flowers, either for Sundays or for weddings. This is all done voluntarily by our flower arrangers who put their time and talents to good use for the benefit of us all.
BELL RINGERS
We like to welcome  people to worship with our Church bells. We need more ringers to join our bell ringing team, who also ring for weddings – and get paid for it!
CREATIVE MINDS
Is run once a month by a lady who is training to be an art therapist who comes to lead the activities which are quite simple. It is not an art group but an opportunity to do something creative/therapeutic and have a coffee.
CHURCH CLEANERS
A clean and tidy Church is part of our welcome to visitors, but we need new people to join in our team of volunteers. Are you good with a broom and a duster?