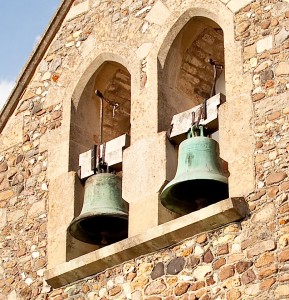 The Church of St Peter in Old Hurst has two bells which are clearly visible from the outside.
They are:
22½ ins – Cast by James Keene of Woodstock in 1630
23½ ins – Inscribed H HVNSTON R WEST C W 1705
If you look carefully at the picture you will see that the wooden headstock on the right hand bell is looking a little wonky and in 2013  both bells were taken down and repaired.  Take a look here.