Photographs by Margaret Bull and others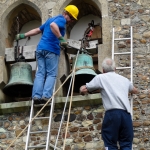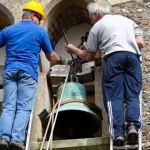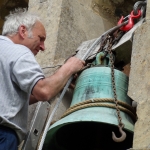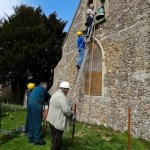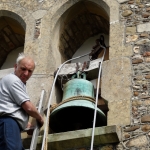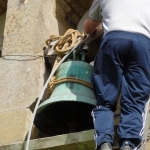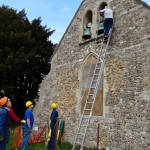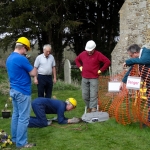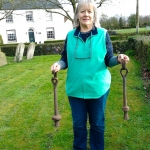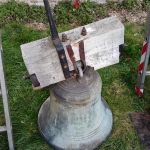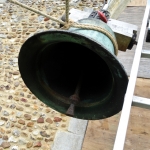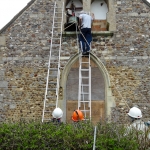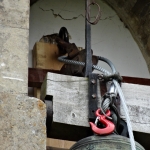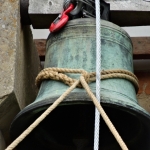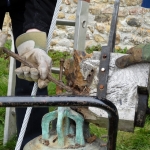 St Peter's has two bells which hang in two alcoves high on the outside of the west wall of the church.
In late summer 2012, in the course of routine maintenance work on St Peter's we found that the wooden beams, or headstocks, supporting the bells were collapsing and that the masonry in the alcoves was damaged. Realising we would need expert help and advice, we turned to the Huntingdonshire Church Bell Restoration Society, a charity staffed by a group of extremely skilled, brave, knowledgeable and generous volunteers.
After a couple of inspection visits it became clear that the headstocks for both bells were unsafe, so the bells would have to be taken down and the hanging mechanism repaired. First the HCBRS secured the bells with a temporary arrangement of wire cables attached to internal beams to ensure the bells would not fall, and removed the bell ropes so they could not be rung.  The next step was to get the necessary permission from the Ely Diocese to remove the bells, and then we had to wait for the winter weather and the dark evenings to pass. Finally, both bells were removed from their alcoves in April 2013. The task was made more challenging because there is no access for any sort of lifting machinery in the churchyard.  As a result the bells had to be removed using a complicated pulley and tackle system.  This required a good deal of man- and woman-power which was fueled by lots of tea and cake.  Fortunately the work was done on a gloriously sunny afternoon, and was completely successful.  The next stage is to have the headstocks repaired and the bells re-hung in a fixed position to avoid damage to the masonry.  Although they will be fixed, it will still be possible to ring the bells by having an electronic system installed so that a metal striker hits each bell. We need permission form the Diocese to have this next stage of the work carried out, and are hoping to have that in the next month.  However, before anything else can be done St Peter's has to find the best part of £5,000 for the full cost of this specialist work.  We are a very small parish, with a small congregation, and like many others like us, we have no spare funds to meet this unplanned and unforeseen expense.  Despite this we are determined that St Peter's will have its bells back and have already had two successful fundraising events to contribute to the costs: a Quilt and Craft Exhibition in February and a Flower Festival in May.  We hope we may be able to identify some grant funding to reach our final target, and so have the bells pealing (or rather ding-donging) out again very soon. Watch this space for more updates.